In matriarchal cultures the colours white, red and black stood for certain qualities of character. They were a synonym for aspects of life and imbued with symbolic powers. The female identity defined itself in cycles. The colours were invested with corresponding cyclic meaning. White signified a young, independant, playful force, classifying it as maidenly. Red was drenched with will power, erotic fulfilment and fertility, the "mother" of all vivacity. Black represented death and fate, the knowing old woman.

A metamorphosis from darkness into light, reinkarnation, and the cycle could start over again.
The scenery and the images of the dance-theatre "Colours" takes into an interpretation of the three colours white, red and black.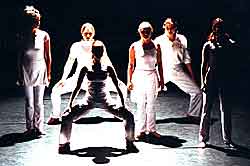 Premiere
01.12.2000 Experimentiertheater Erlangen

Performing dates
02.12.2000 Experimentiertheater Erlangen
08.03.2001 Kulturfabrik Roth
17.06.2001 Metropol Theater München
18.06.2001 Metropol Theater München

Duration 70 minutes without break

Press comments:


"The dancer and choreographer Sybilla Bund tells minute, well observed everyday stories with precisely sketched characters. Against the symbolic colours of the background Reality and Myth mix. Eight woman performing life. The female, from birth to death. Intensive, emotional, inspiring."
Erlanger Nachrichten, 04.12.2000


"Highlight was the Solo of the choreographer and creator Sybilla Bund with the colour red."
Plärrer, January 2001


"Erotic and eccentric" Roth, March 2001